5 May 2019
Posted by:

Roisin Bennett

Categories: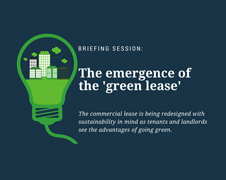 Briefing Session: Green Leases
As the first versions of green leases are now being seen in Ireland, Reddy Charlton is holding a briefing session on the topic this September.
This is an essential briefing for anyone involved in the property sector – property owners, landlords, tenants, property managers, developers and surveyors.
Topic: Introduction to Green Leases
Date: Thursday 28 September 2017
Time: 6pm – 7pm.
Venue
Offices of Reddy Charlton
12 Fitzwilliam Place,
Dublin 2.
Register
To register your place(s) please email lglen@reddcyharlton.ie  or  T: +353 1 661 9500
Event Overview
Roisin Bennett, Reddy Charlton, Eamonn Maguire and Brian Meldon, Society of Chartered Surveyors Ireland (SCSI) will explain the "green lease" in the context of EU legislation that requires all new, public buildings to comply with Nearly Zero Energy Buildings (NZEB) standards by 2020.
Speakers will examine the impact of this legislation and demonstrate with practical examples of existing compliant buildings.  This will be followed by a Q&A session.
Marion Jammet, The Irish Green Building Council (IGBC) will also be in attendance highlighting work being undertaken in this area.
This event is being run in conjunction with World Green Building Week