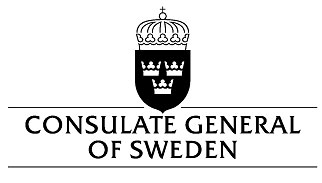 Paul Keane is Honorary Consul General of Sweden.  The staff of Reddy Charlton support the Consulate in its work.
The Consulate is responsible for providing consular services to Swedish citizens. In particular, we provide the following services:-
Issuing of Emergency Passports
Collection by the applicant of full passports, driving licences and Identity Cards received here from the Swedish authorities
Driving Licence applications forms
Report of Death in Ireland of Swedish Citizens
Registration of Name of a minor entitled to Swedish Citizenship/application for co-ordination number
Assist Swedish Citizens in distress
Attend Swedish Citizens in prison
Certify the existence of a Swedish Citizen for pension purposes
Certification of certain documents issued by the Swedish authorities in English, (i.e. Swedish Birth Certificates and Swedish Marriage Certificates — Personbevis)
The Consulate does not deal with:-
Holiday Visa Applications (Schengen Visa) – Applicants should apply to the Danish Embassy in Dublin http://www.ambdublin.um.dk/en/menu/ConsularServices/VISA/
Work Permits – Applicants may apply directly to the Migration Department in Sweden www.migrationsverket.se.  Please note that only a Swedish Embassy can impress Work Permits on an applicant's passport.  The Consulate is not empowered to do so.
Residency Applications – Applicants should apply to the Swedish Embassy in London.
Full Passports – Applicants should apply to the Embassy in London or an authorised Police Station in Sweden.
Performance of Marriages
Consulate Opening Hours
Phone Hours
Monday to Friday (excluding bank and public holidays): 09.00 am to 11.00 am
Visiting Hours (by appointment only)
Monday to Friday (excluding bank and public holidays): 11.00 am to 01.00 pm
All applications for emergency passports and co-ordination numbers, collection of passports, driving licences and identity cards are by appointment only.
To obtain an appointment please send an email to dublin.swecons@reddycharlton.ie setting out in full the purpose of the appointment.
If you do not have email access you may leave a telephone message at 00353-1-265 0888 and your call will be returned during opening hours.
Please note that the Irish Embassy in Sweden is responsible for handling Irish cases and issues in Sweden:-
www.embassyofireland.se
Paul Keane är Sveriges honorärkonsul vid Generalkonsulatet i Dublin. Henriette Elfwendahl är hans assistent.
Konsulatets telefontider är 09.00 — 11.00 måndag till fredag
Besökstider är 11.00 — 13.00, måndag till fredag
Ansökan om provisoriskt pass och samordningsnummer/personnummer, hämtning av pass, körkort och ID-kort kan endast göras vid bokad tid.
För att boka tid, sänd ett e-postmeddelande till dublin.swecons@reddycharlton.ie och beskriv ingående syftet med tidsbokningen.
Om du inte har tillgång till e-post kan du lämna ett röstmeddelade på +353-1-2650888 så ringer vi tillbaka under våra öppettider.
För mer information hänvisar vi till följande länk: http://www.swedenabroad.com/sv-SE/Ambassader/Europa/Om-oss/Irland/
OBS! Vänligen ta kontakt med irländska ambassaden i Stockholm för frågor gällande irländare i Sverige: www.embassyofireland.se
PASS ANSí–KAN I SVERIGE
I flera län kan du boka tid via webben.  Vanligtvis går det att boka tid 30 dagar innan.
Useful Swedish Web Pages
Swedish Diplomatic Missions Abroad
http://www.swedenabroad.com/
Investment, Trade
www.business-sweden.se (several languages)
Business Sweden is responsible for the trade and promotion of Swedish companies in Ireland as well as Irish FDIs in Sweden
Business Sweden UK and Ireland
5 Upper Montagu Street
W1H 1AG London
Tel: +44 207 616 4070
Swedish Development Assistance
www.sida.se (English)
Information about Swedish development assistance.
General information about Sweden
www.sweden.se  (several language versions)
The official gateway to Sweden.
Swedish Government
www.sweden.gov.se (English version)
Information about the Swedish government, its offices, names and photographs of ministers, politics, which international organizations Sweden belong to, etc.
Here you can also find answers to frequently asked questions like:-
Addresses and telephone numbers to Swedish embassies and consulates
Which nationals need a visa to Sweden (>The Government offices incl ministries >Ministry for Foreign Affairs>FAQ >Visa information)
Assistance to Swedish citizens abroad (The Government offices incl ministries>Ministry for Foreign Affairs>Areas of responsibilities>Consular Affairs)
Swedish Parliament
www.riksdagen.se (English, Spanish and other languages)
Royal Court
www.royalcourt.se (English)
About the monarchy and the royal court and family
Migration Board
www.migrationsverket.se (Several languages incl. English)
About visiting, working, studying, living in Sweden as well as citizenship
Studies
www.studyinsweden.se (English)
About universities, study options, scholarships etc
Work
http://www.sweden.se/work (English)
About labour market, get a job, society, business etc
Police
www.polisen.se  (English)
Information about passports and ID-cards
Driving in Sweden
www.vv.se (English)
Driving in Sweden, road safety, validity of foreign driving permits in Sweden etc
Films
www.films.si.se (English, French, Spanish and other languages)
The Swedish Institute's film data base.  A selection of Swedish films which can be borrowed and shown abroad.
Swedish Institute
www.si.se  (several language versions)
Information about Sweden, scholarships offered, pamphlets and books about Sweden, Swedish language studies etc
Higher Education
www.hogskoleverket.se (English)
The Web site of The Swedish National Agency for Higher Education
Information about Swedish higher education and universities, statistics
Information for foreign students is provided by the Swedish Institute and available at www.studyinsweden.se
Import of dogs and cats to Sweden
www.jordbruksverket.se (English)
The Swedish Board of Agriculture
Nobel prizes
www.nobelprize.org (English)
Information about the Nobel Prizes, the Nobel Laureates and their discoveries, about the donor, Alfred Nobel and his will, the Nobel Foundation, its history, organization, budget etc
Statistics
www.scb.se (English)
Statistics about "everything"
Taxes/Population registration
www.skatteverket.se (several languages under international)
Information about taxes in Sweden, including rules and taxes for foreign entrepreneurs and for residents abroad, population registration, co-ordination numbers, foreign property owners etc
Tourism
www.visitsweden.com  (many languages)
Sweden's official website for tourism and travel information
www.sverigeturism.se/smorgasbord/index.html   
The Sweden Information Smorgasbord is the web's largest single source of info in English on Sweden, Swedish provinces, nature, culture, lifestyle, society and industry. Links to regional tourist agencies
www.stockholmtown.com (many languages)
The official visitor's guide to Stockholm.